Corbett Waterfall
Jim Corbett National Park





Description

Corbett's wilderness is intriguing - leopards and tigers call it home, birds live in peace, locals enjoy the greenery, and tourists find the nature therapeutic. This 2-day getaway is thrilling as well as relaxing. But in case you're planning an extended and exciting vacation, we suggest escaping to beautiful places to visit near Jim Corbett National Park.

Corbett Waterfall
Situated at an approximate distance of 25 km from Ramnagar City by surface.The waterfall is snuggled amidst the green foliage and cascades down into a small lagoon like pool. It is a best picnic spot for groups visiting Corbett National Park. Tourist can enjoy swimming and can refresh all the senses of the body.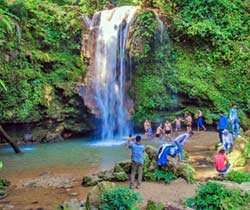 Eloped in the dense teak wood forest, Corbett Waterfalls dropping down from a height of 60 feet offer a refreshing break from tiring safari session. The area around the waterfall is just the perfect to enjoy a picnic. While visiting the waterfall, make a point to carry sufficient drink and food stock as there are no eating joints nearby. One can also enjoy birdwatching here.

Getting There
Tourists can take buses or taxis from Kaladhungi (4 kilometers) and Ramnagar (27 kilometers). To reach the main waterfall, trek for approximately 1.5 kilometers from the parking area.

Best time to visit
Holiday in Corbett National Park should be avoided during the monsoon season as the region is prone to landslides and soil erosion. But tourists can visit the Corbett Falls throughout the year.

Things to Do & See in and around
Nearby Corbett Waterfalls, there are many places to visit like Garjiya Temple, Sitabani Temple and Corbett Dhangarhi Museum.
Make an Enquiry