Elephant Safari


Make an Enquiry

Elephant Safari Tariff
Price (Indian)
₹ 3,500/

Elephant

(Max 4 Persons are allowed in ONE Elephant)

Price (Foreigner)
₹ 3,500/

Elephant

(Max 4 Persons are allowed in ONE Elephant)

Zone
Sitabani (Corbett Landscape) & Dhikala
Timings
Morning 6:00 AM - 8:00 AM | Evening 4.00 PM - 6.00 PM
Elephant Safari
Welcome to Elephant Safari Booking to Corbett National Park. Visitors can book online Elephant Safari for Reserve Zone of Corbett National park. Corbett National Park visit without elephant safari means your tour is not complete. Elephant safari in Corbett is the only way to see the wild animals closely and spend more time with them.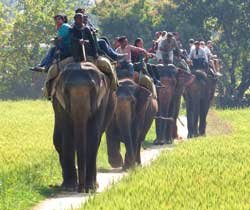 Along with elephant and expert Mahout you can go deep into mysterious forest, rugged trek, scenic valley vast grassland and river. The elephant safari is an immense mixture of diverse modes to watch natural world and significantly to attachment through the 'lord of the jungle'; the major magnetism being travelling the pachyderm for such an extensive epoch of time. The elephant safari is available only for those visitors who have previously booked their night stay permits inside the park for Dhikala or Bijrani Forest Rest houses. This facility is not available at any other rest house inside the Corbett National Park. Corbett National Park visit without elephant safari means your tour is not complete. Elephant safari in Corbett is the only way to see the wild animals closely and spend more time with them. Along with elephant and expert Mahout you can go deep into mysterious forest, rugged trek, scenic valley vast grassland and river. It's an adventure and scary feeling when you go close to tiger or herd of wild elephant, yes this is real elephant safari in their natural habitat.There is two timing morning and evening for elephant safari in Corbett. That is an opportunity to take Corbett elephant safari twice in a day. One more option is arranged by Corbett Tiger Reserve for hard core wildlife lovers that is long elephant safari. In this exclusive elephant safari you have to stay in forest lodges inside the Corbett National Park. It is always recommended to book elephant safari in advance.
THE AREA WHERE THE RIDES ARE CONDUCTED IS CALLED THE CORBETT LANDSCAPE AREA ACROSS THE KOSI RIVER INTO THE GRASSLAND & SHRUB AREA. BEAT SUITED FOR TIGER & WILDLIFE VIEWING - THE THRILL OF JUST SITTING ON AN ELEPHANT CROSSING THE RIVER AND MAKING ITS OWN TRACK IS AN UNIMAGINABLE EXPERIENCE!!
IN THE JUNGLE, THE MIGHTY JUNGLE AN ELEPHANT RIDE IN THE FOOTHILLS OF THE HIMALAYAS TIGERS BURN BRIGHT IF YOU ARE LUCKY TO SEE ONE... THE WORDS OF JIM CORBETT ECHO THROUGH THE JUNGLE " SHOOT ONLY PICTURES ...LEAVE ONLY FOOT PRINTS .. TAKE ONLY MEMORIES ".
---
Entry Formalities:
As the entire periphery of the Jim Corbett National Park falls under restricted and protected area, so official permission is required to visit the core area of the tiger territory. There are two kinds of official permits issued by the government for entering into any safari zone of the park. Day visit permit (for jeep/canter safari) and Permits for night stay inside the Government forest lodges The day visit permits are required by Indian nationals as well as foreigners for entering into any tourism zone in Corbett National Park. Accommodation inside the park is possible after obtaining night stay permit that are issued by issuing authorities of Government officials.


ID Proof: DL Number, PAN Card Number, Voter ID, Passport Number (Only for Foreigners), etc.
The Traveller has to carry the same ID Proof as submitted in this form, while visiting Corbett National Park.
Pick-up & drop point for safari is Ramnagar city but can be done from any Hotel/Resort on extra cost which depends on its location.
Safari Charges will be NON-REFUNDABLE if permit is booked/confirmed.
---
Advance Booking Procedure
For booking request please provide us the following details:
The full name, age, sex of each visitor as printed same on the identity cards to be provided along with the confirmatory amount.
Preferred travelling date & Safari timing (Morning/Afternoon).
Specific ID card number of your ( Voter Id, Aaadhar No, Driving license No etc).
Safari Entry fee paid in advance.
E-permits are non-refundable if permit is booked/confirmed.
Please carry the same ID card submitted during online booking.
Please intimate us 30days in advance (for Indian nationals).
Foreign nationals can ask for booking 90 days in advance.
Passport details are mandatory for making reservation of foreigner tourists.
Safari permit is issued on first come first serve basis (subject to availability) .
---
Jim Corbett Safari Important information
THERE ARE 04 SLOTS / SESSIONS - 04 ADULT PERSONS CAN BE SEATED ON AN ELEPHANT - DURATION IS 02 HOURS.
WINTER MORNINGS - 06:00 - 08:00 HRS & 08:00 - 10:00 HRS AND EVENINGS 1330 - 1530 HRS & 15:30 - 17:30 HRS.
SUMMER MORNINGS - 05:00 - 07:00 HRS & 07:00 - 09:00 HRS AND EVENINGS 1500 - 1700 HRS & 17:00 - 19:00 HRS.
Elephant Safari is NOT booked in advance. Its booked on SPOT and subject to availability.
For Elephant Safari, one has to avail Jeep Safari to reach inside Bijrani Zone.
Visitors are required to obtain entry permits that are being issued online (by producing above mentioned documents).
It should be noted that the entry permit to the Corbett National Park is provisional and can be changed or cancelled without any prior intimation.
The order of Corbett Tiger Reserve Director will be final in this regard, we are governed by the rules made there under.
Entry permit belongs to you is not transferrable.
Official registered guides can only join your excursions, please do not try to change the guide or naturalist.
Entry to the National Park is strictly prohibited after sunset.
Day visit to Dhikala Tourism Zone is not permitted except for the tourists staying inside the forest lodges.
While doing jeep safari do not get down from the vehicle, it is not allowed.
Avoid carrying pets while you on a holiday tour as no pets can be taken inside the CTR.
All visitors to the Corbett Tiger Reserve are abide by the rules and regulations of wildlife protection act. So please co-operate.
---
Terms & Conditions
Day visit to all zones are strictly regulated as per the scientifically calculated carrying capacity and only a limited number of vehicles are permitted entry during each morning and afternoon.
Permits for day visits to the Sonanadi Ecotourism zone can be obtained from the visitor reception center located at Kotdwar.
Permits for day visits to other zones are available online on our website.
Visitors are advised to acquaint themselves with gate timings and arrive well before the designated time to avoid any inconvenience.
Private vehicles are 'not' allowed entry for tourism purposes into the park and visitors use specially designed vehicles, registered with CTR for this purpose. Day visits to the Dhikala Ecotourism Zone are permitted only through the specially designed Canter buses via Ramganga Conducted Tours.
Visitors can also enjoy jeep rides at Bijrani and Dhikala ecotourism Zone, which is available on 'First come, first get' basis.
Canteen facilities are available at Dhikala, Bijrani and Gairal. At other locations, kitchen facilities have been provided.