Wild Iris Spa & Resort
1 / 5
2 / 5
3 / 5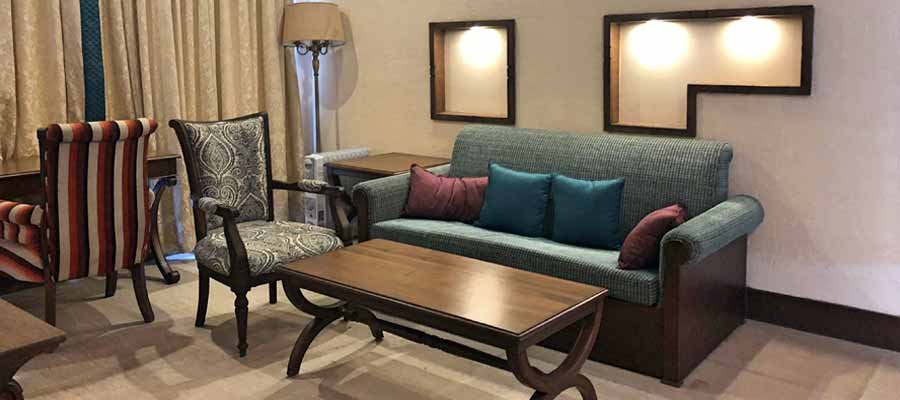 4 / 5
5 / 5
Wild Iris Spa & Resort
Village Kyari Kham, Nainital Road, Ramnagar
Type
Special Rates
INR

Rooms
EP (Room only)

₹ 3,000 /couple /N

CP (Room + Breakfast)

₹ 3,200 /couple /N

MAP(Room + Breakfast + Dinner)

₹ 3,500 /couple /N

AP (Room + all meals)

₹ 4,200 /couple /N
Corbett Wild Iris Spa and Resort stands majestically amid dense jungles. The luxurious accommodation in conjunction with modern amenities elevates the experience of the guests who wish to enjoy nature in its true sense. This resort is indeed a perfect getaway with its range of rejuvenating and entertaining facilities.Corbett national park is an acclaimed tourist destination where nature lovers and wildlife enthusiasts love spending quality time. A tour to this park gives a thundering experience to tourists. This is a reason, people in large number choose this place for holidaying.
Offering a multi-cuisine restaurant, wildlife safari, indoor and outdoor games, this spa resort is around 2 hours from Nainital. Location: Situated on Ramnagar-Nainital Road, Corbett Wild Iris Spa & Resorts offers its guests a perfect opportunity to explore the unadulterated wilderness and varied wildlife of Kumaon from up close.
Location
Situated at Kyari Kham, Nainital Road, Corbett Wild Iris Spa and Resort is ideal for all travellers with its unique setting and calming ambience. Prominent places of visit such as Bharatpuri Mandir (Approx. 9km) and Sideshwar Mandir (Approx. 10km) are close to the hotel. Guests can also explore interesting places like Ramganga River, Corbett Museum and Garjia Temple to complete their visit to Corbett.
Distances from Pantnagar Domestic Airport: Approx. 80km
Distances from Ramnagar Railway Station: Approx. 10km.
Rooms
Designed to suit its natural surroundings, the accommodation at Corbett Wild Iris Spa & Resorts is available in thatched cottages and Swiss-style tents. Be it Jungle Cat Cottages, Tiger Suites or Leopard Duplex Rooms, all units are equipped with modern comforts like AC/heater, LCD TV, intercom, Wi-Fi, tea/coffee maker and digital safe for the convenience of guests.IRIS Spa and resort provides luxury accommodation with full exposure to the beauty of nature. Located in a beautiful demographic, it gives real jungle atmosphere to people accommodating here. Enjoy magnificent natural surroundings as well as exclusive flora and fauna of Corbett national park while living in this resort. This is actually a wonderland for those who love to observe the mysteries of wildlife and natural beauty.
Rooms Type
Jungle Cat Deluxe Cottage
These spacious 400-square-foot rooms are fully loaded, with contemporary wanderlust in mind. The Jungle Cat Cottages draws inspiration from local Kumauni Houses - the sloping thatched roofs, ethnically designed to keep the indoors warm in winters and cool in summer, without using much of the electric gadgets.
Leopard Duplex
Our Leopard Duplex rooms offer a spacious 350 square feet bedroom area with a separate space for kids to sleep are designed to suit a family stay. These duplexes offer a splendid garden view, a separate sitting area and are equipped with a king-sized bed, air-conditioning, 42-inch television, tea, and coffee maker, wardrobe and electronic safe. The Leopard Duplex rooms at Corbett Wild Iris Spa & Resort, Ramnagar, comes with 24 hours room service by our dedicated and professional staff. Leopard Duplex is designed with exquisite design and decor to escalate your experience of accommodation.
Tiger Suite
The Tiger Suite at Corbett Wild Iris Spa & Resort, Ramnagar, offers 400 square feet bedroom with a separate living room and separate space for kids to sleep. These suites are equipped with king-sized bed, air-conditioning, 42-inch television, wardrobe and an electronic safe. Our Tiger Suite comes with a splendid garden view and 24 hours room service by dedicated and professional staff. These rooms are designed with premium interiors to exemplify grand living.
Amenities
Swimming Pool
Laundry Service
Children Activities (Kid / Family Friendly)
Outdoor pool
Business Centre with Internet Access
Free Parking
Accommodation
The hotel arranges wildlife safari and sightseeing tours. This resort also has a restaurant 'Amid' which draws food lovers to its range of delicacies from variety of cuisines.Our spa offers a pleasure and repose with Ayurvedic treatments and steam facilities. The spa encounter endeavors to accomplish a definitive concordance between the physical and the mental domains of the individual. Our luscious treat brings authentic flavors of Italian, Chinese, Indian, Mediterranian cuisine. Our Grill house offers old style oven baked pizzas and variety grilled food. Enjoy delicious delight at our Amid and Orchard Grill Restaurants.
How to Reach
Corbett Wild Iris Spa & Resort, Ramnagar, is a resort situated in the midst of Corbett National Park. The resort is located near village Kyari Kham in Ramnagar, Uttarakhand. We offer a rejuvenating experience to chafe the stress of our guests. We at Corbett Wild Iris Spa & Resort brings you a pleasure of discovering true nature with its rich nature surrounding ambiance.
By Air
Jim Corbett National Park doesn't have an airport. If one wants to go by air, Phoolbagh in Pantnagar is the nearest airport. It is located 78 km away from Jim Corbett. Pantnagar airport is well connected with major cities in India, so one can easily reach there. Delhi which is 300 km away is the nearest international airport for the people travelling from abroad. Flights from Lucknow and New Delhi travel to Pantnagar twice a week, so one can arrange accordingly. One can easily find taxi from Pantnagar to Jim Corbett.
By Rail
Ramnagar railhead is the nearest railway station to Jim Corbett Wildlife Sanctuary. This railway station is connected to major cities of India, the nearest being New Delhi railway station. Ranikhet Express is one of the trains that operate from New Delhi railway station to Kathgodam railway station. This train runs daily between the two places. Bus or taxi are easily available that will take you to Jim Corbett. Also, trains are available from Moradabad railway station.
By Road
Ramnagar is connected by road to Delhi, Moradabad, Bareilly and Naintial. State transport buses ply regularly from Delhi, Moradabad, Haldwani to Ramnagar. The approach routes are:-
Delhi-Hapur-Moradabad-Kashipur-Ramnagar: 250 Kms
Dehradun-Haridwar-Dhampur-kashipur-Ramnagar: 230 Kms
Nainital-Kaladhungi-Ramnagar: 66 Kms.
Google Map
Make an Enquiry